Milton, Georgia Family Law Attorneys
Going through a divorce or child custody dispute can be extremely stressful. Any legal issue that involves your family can turn your life upside down. You need a family law attorney who can help you navigate these highly emotional issues and help you find a speedy resolution so you can restore peace to your life.
At Hobson & Hobson, P.C., we have over 30 years of experience in divorce and child custody cases and have deep knowledge and expertise in helping to resolve the most difficult disputes. As leading Milton, Georgia, family law attorneys, we prioritize our clients' emotional and financial concerns to find the best resolutions for families.
In most cases, finding a cordial agreement outside of a courtroom is the best way to settle family legal issues. The attorneys at Hobson & Hobson will pursue litigation only if every other attempt for an amicable settlement fails. We always take appropriate actions and fight aggressively to ensure that your rights and financial assets are well protected.
Hobson & Hobson Practice Areas
A family may need attorney representation for several reasons—some that can be deeply distressing and others that can be complicated but a reason for celebration. For example, the attorneys at Hobson & Hobson have helped Milton families adopt children, which always is a happy event. Our attorneys take a hands-on and empathic approach to all family law matters, including any issue related to:
Divorce Attorneys in Milton, Georgia
Georgia has one of the highest divorce rates in the United States, ranking seventh for its annual number of divorces. Psychologists consider divorce to be among the leading causes of stress a person can experience in a lifetime.
Knowing that the decision to end a marriage can be emotionally challenging, the attorneys at Hobson & Hobson can help you successfully move to the next stage of your life. Whether you have a contested or uncontested divorce, we'll ensure that you understand your legal rights and help you protect your children and your assets.
Our expert team of divorce attorneys will help you negotiate challenging financial issues like:
Most divorces settle out of court. In many cases, Hobson & Hobson attorneys can negotiate directly with your spouse's attorney and avoid litigation.
In high asset divorce and complex alimony spousal support cases, you will need an attorney well-versed in Georgia law and complicated financial analysis. The attorneys at Hobson & Hobson have a history of guiding clients with high net worth through a divorce. We have a proven record of success in protecting clients' assets and privacy.
Ready to Get Started?
We can help. We can guide you through the consultation process starting with a scheduled call back from a member of our intake team. If you would prefer to speak directly and confidently with an attorney, a paid hour consultation is also available. To arrange a meeting, contact us today.

Child Custody Attorneys in Milton, Georgia
In separation and divorce, one of the most important legal considerations is securing your children's emotional, physician, and financial health. The attorneys at Hobson & Hobson have comprehensive knowledge of Georgia law that governs child custody issues. We can help you achieve the best outcome for you and your children.
Georgia is considered a "gender-neutral" state in terms of child custody. This means that there is no bias to a mother or a father in a child custody case. A judge has broad discretion in determining what custody situation would most benefit the child.
It's essential to be represented by seasoned family law attorneys at Hobson & Hobson to help you understand your child custody situation's unique circumstances. Our attorneys will work with your spouse's representation to determine an arrangement that will best serve your children's needs. Following a divorce, we can help you negotiate an updated or modified child custody agreement, if necessary.
Many people are confused by two major concepts involved in child custody cases: the difference between physical custody and legal custody. Here are the differences:
Physical custody: Physical custody dictates where children will live on given days. In many cases, one parent has primary custody, and the other has secondary custody. Parents with joint custody have equal time with their children.
Legal custody: This refers to an agreement on the rights to decide on a child's behalf. Typically, legal custody is related to decisions regarding education, healthcare, and religious upbringing. In most cases, parents share legal custody.
The Hobson & Hobson family law team will help you achieve a fair custody arrangement. We will help develop a parenting plan that is beneficial for your family.
One of the most difficult child custody issues to manage following a divorce is when a parent moves to another state. The parent might have to move for a job or for another reason. If this happens, Hobson & Hobson is skilled in modifying child custody arrangements to work best for everyone involved.
There are some circumstances in which one parent disparages the other to their children. This might lead to parental alienation, meaning that one parent distorts a child's view of the other parent. The family law attorneys at Hobson & Hobson have vast experience in finding remedies for parental alienation.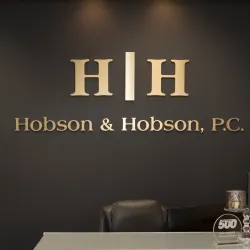 Need Milton, Georgia Family Law Attorneys?
Whether you're going through a divorce or a child custody issue or seeking an attorney to handle an adoption, Hobson & Hobson family law attorneys will help you through legal issues each step of the way. Our team recognizes the emotional and financial stress that comes with most family legal issues. We are committed to helping our clients resolve any family law matter as quickly, affordably, and amicably as possible.
We provide premier legal services in Milton, GA, and are available in the evenings, weekends, or whenever our clients need us. Our large and diverse staff is deeply knowledgeable in all areas of family law. And we are proud of the dozens of testimonials from satisfied clients.

Testimonials
I contacted this firm for help with a domestic case. I was pleased with them from the very first phone call until the end of my case. Everyone here is very friendly and helpful, and have a way of helping you find a calm in the middle of the storm that you may have been experiencing before contacting them.







After having some misfortune events, I reached out to the Hobson team for some guidance and direction. Immediately, my case was taken on and the professionalism was 2nd to none. Hobson and Hobson was easy to work with, educated on said events, orderly, timely and executed everything I needed from beginning to end.







I just want to say I highly recommend Hobson & Hobson Law. Sarah has been a pleasure to work with and for something that took almost 3 years...she never settled for anything. The hard work and knowledge she put in was extremely helpful and the outcome turned out better than we hoped for.







They did a great job with my adoption case. Process went smoothly and kept me informed throughout the entire process.







Chris, Sarah, and Travis are a solid team of knowledgeable, professional, and well planning counsel. I have had the pleasure of dealing with them through a difficult time. I was given honest information, and there execution was geared towards getting the results needed. Highly recommended!
Anonymous Custody Client
2019







Very professional throughout the whole process. Any questions I had were answered and thoroughly explained. Chris Hobson and his associates made a life changing situation very manageable. I would highly recommend this law firm.







Chris is very attentive and is a great lawyer. He has definitely made me feel more at ease with everything going on in my case. He is very knowledgeable and I would recommend him to anyone going through a child support/custody case..







Chris Hobson guided me with how to communicate with the child's mother and assured me that as long as I followed his lead my needs would be met. Now, here I am, November 2017 spending the holidays with my baby girl for the first time ever with full custody. I graciously thank Chris, I couldn't have found a better lawyer. I highly recommend him. Very professional, yet personable and gets the job done.
Anonymous Custody Client
2017







I have been a long-term client of Chris Hobson's for almost 6 years now in an ongoing custody battle. He has been there every step of the way to help me understand the legal process, my rights, and options. He brings a sense of compassion to his work being that he is a family man himself. He is thorough with his work and will fight for you every step of the way. I would use their services again and would recommend them to anyone in need.







Chris Hobson is very resourceful, portrays great legal acumen, and gets results, in a professional manner, with integrity. Not once have I ever doubted Chris (or Hobson & Hobson). They are always there, when I need them, never any delays. Having worked with dozens of attorneys over the years, the Hobson & Hobson Team are second to none.







I can't say enough to express what a wonderful lawyer Chris Hobson was for me. Chris is professional and very good at law. He is also a wonderful man who cares about his clients. I have and will continue to recommend him. God blessed me with placing Chris Hobson as my attorney.
Anonymous Divorce Client
2013







Chris did an excellent job. He was responsive and sympathetic. He was very knowledgeable and made sure that I knew where we stood in the process. I would recommend him.
Anonymous Divorce Client
2013







Mr. Hobson handled my case in a professional manner. I feel that my case was somewhat complicated and he was able to give me viable options and get the case closed quickly with the least amount of stress. Since my divorce I have retained Mr Hobson to represent me regarding issues that have arisen with my ex-husband. If in the future I have any legal needs I will definitely call Mr. Hobson again.







Chris devolved a plan in the beginning and get me focused on the legal details. He also provided me with not only legal stability but also emotional and intellectual support through a difficult time and I appreciated sound counsel during that time. I feel he did an excellent job for me and have told many friends what a great job I feel he did for me.
Anonymous Divorce Client
2012







I have had the pleasure of working with Attorney Hobson and he is professional, honest, informative, patient and very understanding. He is very talented and will gain worldwide notoriety. I would definitely recommend him and call on him again.
Anonymous Family Law Client
2013







Chris and his staff were great and very attentive. Either he or one of his staff members would reach out to me promptly if I had any questions or needed anything. I would definitely recommend Hobson and Hobson!







Chris Hobson was the consummate professional as my lawyer. He went to battle when needed like it was his own legal matter rather than just his job. Chris genuinely cares about his clients in my opinion. I do and will continue to recommend Hobson & Hobson to anyone needing legal assistance. The integrity, knowledge, and professionalism was a strong suit at Hobson & Hobson.







Chris Hobson did an OUTSTANDING job representing me in a custody/visitation modification case. He was able to prevail at trial and get me exactly what I was seeking! I highly recommend him, especially for cases involving Father's Rights!!!!!