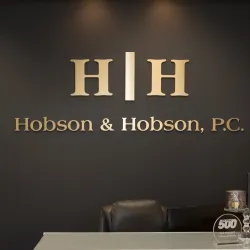 Marietta Family Law Attorneys
We understand the difficulty you face when you need to hire an attorney for family matters. That's why our attorneys work hard when representing their clients. The court is not always the easiest way to sort out issues, and as such, we only pursue litigation after we overturn every other stone. In every case, we aim to do everything we can for our clients' needs.
When you work with Hobson & Hobson, know that we want to make your transition as easy as possible. Divorce and child custody cases affect clients at all hours of the day, so we keep ourselves available for you. If you need assistance after hours, on weekends, or even off-site, we can accommodate those appointments by request.
Hobson & Hobson, P.C. are Marietta family law attorneys with over 30 years of combined experience in both custody and divorce cases. We are empathetic to our clients and their circumstances. When it comes to their wellbeing and protection of assets, we can stand aggressively where necessary. Our mission is to seek a fast and cordial agreement, as we understand it is the best resolution for any family.

Hobson & Hobson, Marietta Family Law Attorneys
If your family is transitioning in some way, Hobson & Hobson are available to help. With our experience, we familiarize ourselves with your family's issues and relay what we believe is the best course of action for your unique situation.
Family Law in Marietta, Georgia
We know that each case requires a distinctive approach when it comes to domestic issues. Our past clients have found success with our hands-on representation. If you and your family need help in Marietta, Georgia, our Marietta family law attorneys can help during the process.
Along with divorce, custody, and fathers' rights cases, we can also offer assistance with a few other services:
Adoption

Prenuptial agreements

Military divorce

Grandparents' rights

Termination of parental rights

Paternity

Temporary Protective Orders
Hobson & Hobson is here to help you. If you would like a consultation before starting, you can contact us by telephone at 770-284-5986. One of our lawyers will be ready to discuss Georgia's family law issues and how we may be of service.
Ready to Get Started?
We can help. We can guide you through the consultation process starting with a scheduled call back from a member of our intake team. If you would prefer to speak directly and confidently with an attorney, a paid hour consultation is also available. To arrange a meeting, contact us today.

Marietta, Georgia Child Custody Attorneys
We understand that most custody cases' ideal outcome involves the children's ability to keep a healthy relationship with both parents. Hobson & Hobson, P.C. will use its collective knowledge and experience to fight for a long-term solution that works best for your family.
Child Custody in Marietta, Georgia
In child custody, the court will ultimately decide based on the child's best interest. This decision usually includes continuing a close relationship with each parent. Under the law in Marietta, Georgia, the court will try to establish joint custody unless any circumstances might prevent this type of arrangement.
If you need assistance with child custody matters, Hobson & Hobson are Marietta family law attorneys that can help you work toward an amicable resolution.
Contact Hobson & Hobson
For matters with separations and divorce, child custody, mediation & guidance, or alimony and spousal support, Hobson & Hobson, P.C. can help. We will work with you to establish your needs and fight for a solution that keeps your assets intact. Our 30 years of combined experience with domestic law speaks for itself.
Hobson & Hobson looks forward to working with those seeking an attorney for representation in father's rights, divorce, or child custody cases. We are available to help you understand the law surrounding your particular familial issue and decode the process of seeking a solution.
Family Law in the state of Georgia can be a precarious subject. Still, the offices of Hobson & Hobson works with you to bring clarity about what you can expect in your specific circumstance. We have helped our clients through a wide array of issues that have arisen during a family transition, and we will fight for you, too.
We have five offices available in locations throughout Georgia. You can visit one of our locations in Marietta, Canton, Alpharetta, Milton, or Roswell. For a first-time consultation, call us at 770-284-6155 and ask about what we can do to help with your family's situation. Hobson & Hobson are Marietta family law attorneys that work for you and fight for the best solution for you and your family.