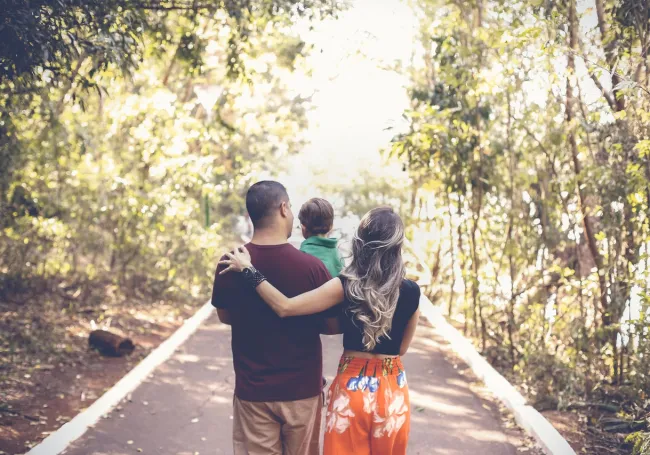 Alpharetta Family Law & Divorce Attorneys
Legal issues that affect your family can be stressful and dramatically alter your life. If your family is facing a legal situation, getting advice from experienced attorneys can ensure that we settle the issue with the best outcome. A family lawyer can help you manage anything from divorce and child custody to adoption.

In Alpharetta, family law and divorce attorneys Hobson & Hobson, P.C. have helped clients in Atlanta navigate challenging issues and find amicable solutions. As the leading Atlanta area family and divorce law team, Hobson & Hobson has assisted hundreds of clients find the best outcome to legal issues impacting their families.
In many cases, our clients benefit from settling legal disputes outside of a courtroom. The Hobson & Hobson legal experts attempt to resolve family law cases amicably and litigate in court only when that's in the best interest of our client. Whether in court or during settlement negotiations, we will take the appropriate steps to protect your family and assets.
If you're facing legal issues in Alpharetta, family law and divorce attorneys Hobson & Hobson can help. For a consultation, call 770-284-6153.
Services Offered by Our Alpharetta Family Law & Divorce Attorneys
Many life events require the counsel of family law attorneys. Regardless of the issue, Hobson & Hobson's legal team treats family law cases with empathy and compassion. Some of the legal services we provide include:
If you're looking for a top-rated attorney who has comprehensive knowledge in all matters of family law, contact the team at Hobson & Hobson today.
Ready to Get Started?
We can help. We can guide you through the consultation process starting with a scheduled call back from a member of our intake team. If you would prefer to speak directly and confidently with an attorney, a paid hour consultation is also available. To arrange a meeting, contact us today.

Family Law for Divorce in Alpharetta, Georgia
Georgia has the 7th highest divorce rate in the country. Divorce can be highly stressful and financially devastating, and it's essential to consult with attorneys who are deeply knowledgeable in Georgia divorce law.
Hobson & Hobson attorneys will be at your side through the entire experience. We will help you and are your family transition through the divorce as smoothly as possible. Below are details on some standard legal services we provide related to divorce.
Uncontested Divorce and Mediation
In Georgia, very few divorce matters are truly uncontested. An uncontested divorce typically means that both parties are able to come to an agreement without the need for negotiations or mediation. This out-of-court optionhelps limit the cost of a divorce and reduce emotional anguish.
Contested Divorce
In some cases, it's not possible to settle family issues related to divorce, division of assets, and child custody. Often, even if a divorce begins as contested, Hobson & Hobson's skilled divorce lawyerscan still negotiate an out-of-court settlement. If your spouse refuses to resolve legal issues, our attorneys will litigate aggressively in court to protect your rights.
Child Support and Child Custody
Child support and child custody are among the most challenging and emotional negotiations in a divorce. According to the U.S. Census, fewer than 45% of custodial parents receive the full amount of child support agreed to in a divorce. Hobson & Hobson attorneys will fight to ensure parents financially support their children during and after a divorce.
There are instances when parents need to modify child support and custody arrangements. When parents agree to the change, the situation is easy to resolve. However, if they disagree, it can become a complicated legal process that requires Hobson & Hobson's counsel.
Alimony and Spousal Support
Judges take many factors into account when determining how to divide marital assets and award spousal support. Hobson & Hobson attorneys will help you understand your options and negotiate the desired support arrangement. Spousal support is awarded to women more often than men, but instances of women paying support to their ex-husbands are on the rise.
Executive and High Asset Divorce
Every divorce is unique and legally complex, and divorcing couples with considerable financial assets will require a lawyer who is well-versed in divorce law and can effectively resolve financial matters. Hobson & Hobson attorneys have helped many clients with significant assets protect their property, investments, businesses, and privacy.
High asset divorces often require the services of a CPA or forensic accountant to uncover hidden assets and make complex financial situations transparent. Couples with large assets are more likely to get involved in high conflict divorces that require an attorney with the skills necessary to navigate them.
Legal Separation
There are some instances when it would benefit a couple to consider a legal separation rather than a divorce. A legal separation involves many of the same legal processes as a divorce, including a division of marital property and child custody matters. A legal separation can be temporary or a permanent arrangement.
Child Custody Law in Alpharetta, Georgia
Taking steps to protect your children's financial, emotional, and physical health is the most essential—and complicated—action in a divorce between parents. We will help you work through challenging child custody issues to achieve the best resolution for your kids and family.
In Georgia, judges have a lot of freedom in determining a child custody situation. At Hobson & Hobson, we attempt to settle most child custody situations out of court and encourage mediation since it gives parents more control over the decision. An attorney who will keep a custody issue out of court will provide you with the most say in what would benefit your children.
Regardless of the custody issue, parents need an attorney with deep experience in Georgia custody laws. We will work with your spouse and their lawyer to find the best outcome for your family's unique circumstances. If the case goes before a judge, we will offer strong legal representation to ensure that you and your child are protected.
Types of Child Custody Cases
A child custody agreement outlines the responsibilities and legal rights of parents in a separation or divorce. Visitation is part of a custody agreement that details how parents will spend time with their kids. There are two main types of child custody orders:
Legal custody: An order that details how parents share in legal decision-making related to their children. In most cases, parents share legal custody equally. Legal custody typically refers to decisions about a child's healthcare, education, travel, residence, and religion.

Physical custody: This defines who children live with and what days they will spend with each parent. Joint physical custody means that kids will live with both parents equally or almost equally. Primary or sole physical custody means that children will live with one of their parents most or all of the time.
To help custody negotiations go smoothly, the Hobson & Hobson family law team assists parents in developing a parenting plan. Georgia courts require a parenting plan for most custody cases, and they will create one for you if you and your spouse can't agree on an arrangement. It's almost always beneficial for parents to develop a plan to maintain control over their children's welfare.
Other Child Custody Considerations
In Alpharetta, family law and divorce attorneys Hobson & Hobson have experience in child custody situations that have special considerations, including:
Parents who move out of state: Following a divorce, a parent might move out of state for employment or a new marriage. In this event, you will need legal representation to modify your child custody agreement. Georgia law considers each circumstance on its own merits, so it's vital to have an attorney with deep experience in this area.

Parental alienation: Unfortunately, not all divorces end with parents parting on friendly terms. There are cases where one parent repeatedly insults and disrespects the other parent in front of their children. If you suspect that your ex-spouse is engaging in parental alienation, Hobson & Hobson will take action to ensure both parents restore a healthy emotional environment for their kids.
Need Alpharetta Family Law and Divorce Attorneys?
In Alpharetta, Hobson & Hobson family law and divorce attorneys will help you through any legal issue—whether you're going through a difficult divorce or need a prenuptial agreement to embark on a healthy marriage. Our team of experts has vast experience managing the financial and emotional difficulties of many family legal problems and will help you resolve every legal matter as amicably as possible.
We offer outstanding legal services in Alpharetta and throughout the Atlanta areas. Check out the testimonials to hear from dozens of satisfied Hobson & Hobson clients.
If you need a family lawyer in Alpharetta, GA, contact Hobson & Hobson by phone at 770-284-6153 or online.